The Haverhill Public Library is bringing stories out into the community with our Trail Tales!
Now that the weather is warmer, you can find our Trail Tales posted on the riverfront boardwalk overlooking the Merrimack River. Take time on a sunny day to walk along the boardwalk and read the posted pages of a beautiful storybook.
The story begins behind the new Haverhill Heights building. Please see the map below to guide you. You may access the boardwalk from the steps near the Post Office (pink) or the sidewalk near Haverhill Bank (purple). The approximate coordinates are 42.773606962509234, -71.0803020271421.
Scan the QR code at the end of the trail to be entered into a raffle for a copy of the book. We will be putting up new stories every few weeks. Visit our Facebook page for updates on when we post a new Trail Tale. Happy reading!
The Trail Tale is an adaptation of the StoryWalk® Project. The StoryWalk® Project was created by Anne Ferguson of Montpelier, VT and developed in collaboration with the Kellogg-Hubbard Library. Storywalk® is a registered service mark owned by Ms. Ferguson.
July's Trail Tale book is…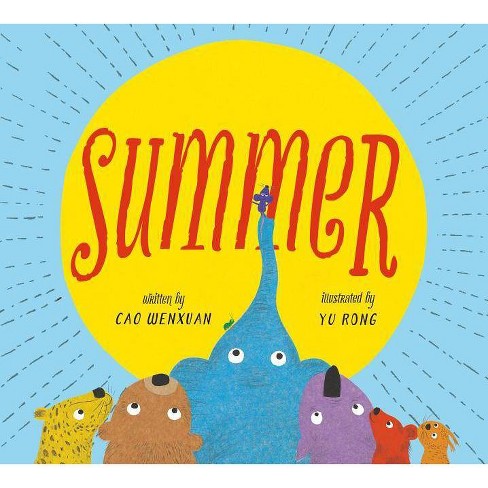 Summer
By Cao Wenxuan
Illustrated by Yu Rong
Under a burning sun on the dry grassland, animals ranging from a tiny field mouse to a large elephant fight over bit of shade until they learn a better way.
If you have read our Boardwalk Trail Tale, please fill out this survey and you could win a copy of the book: https://tinyurl.com/5fnjf53k 
Past Stories
October 2020                                      November 2020                                December 2020                                 January 2021
All Through My Town                  The Thank You Book              Over the River & Through the Wood           William's Winter Nap
by Jean Reidy                                by Mary Lyn Ray                           by Linda Ashman                                  by Linda Ashman
February 2021                                                                March 2021                                                                    April 2021
I Am Love                                                "Bear About Town / Oso en la Ciudad"                                        La Madre Goose
by Susan Verde                                   and "Bear in the Square / Oso en un Cuadrado"                    by Susan Middleton Elya
by / por Stella Blackstone
May 2021                                                                                     June 2021
Harrison P. Spader, Personal Space Invader           A Color of His Own / Su Propio Color
by Christanne Jones                                                             by / por Leo Lionni